Internal Affairs & Standards Bureau
The Internal Affairs Section is tasked with preserving the professionalism of the Department of Public Safety through fair, impartial and timely administrative investigations on commissioned and non-commissioned employees. The section is commanded by Captain Emmanuel Gutierrez who reports directly to the Chief of the New Mexico State Police. The types of investigations handled by the section include various types of misconduct and violations of policy by commissioned and non-commissioned employees. Investigations are conducted in accordance with New Mexico State Police Policies, State Personnel Board Rules and the Peace Officer Employer Employee Relations Act.
In 2021, the section was comprised of one administrative assistant and four lieutenants. Three lieutenants were primarily assigned to conduct administrative inquiries and investigations while the fourth lieutenant was primarily tasked with reviewing and conducting administrative inquiries into use of force and vehicular pursuit incidents. All Internal Affairs employees are held to the highest standard of integrity and confidentiality.
Early Intervention Personnel System (EIPS)
The section is also responsible to maintain the Early Intervention Personnel System (EIPS) database. The system is a proactive, non-disciplinary approach to identify commissioned employees who may need assistance. The system utilizes the Internal Affairs database to automatically generate an EIPS Alert when an employee meets or exceeds a predetermined threshold, in any of the main areas of concern, within an established time frame. The main areas include:
Complaints
Use of Force Incidents
Vehicle Collisions
Documents or Events

Written counseling sessions
Less than satisfactory performance evaluations/quarterly reviews
Lost or Stolen Equipment
Cautionary Letters
Vehicle Pursuits
Duty Injuries
TORT Claims
In cases where an alert is generated, the officer's commander will meet with the officer and determine whether any external factors may be adversely affecting performance and if assistance from the department may be beneficial.
Internal Affairs Investigation Statistics
NMSP IA Statistics: Summary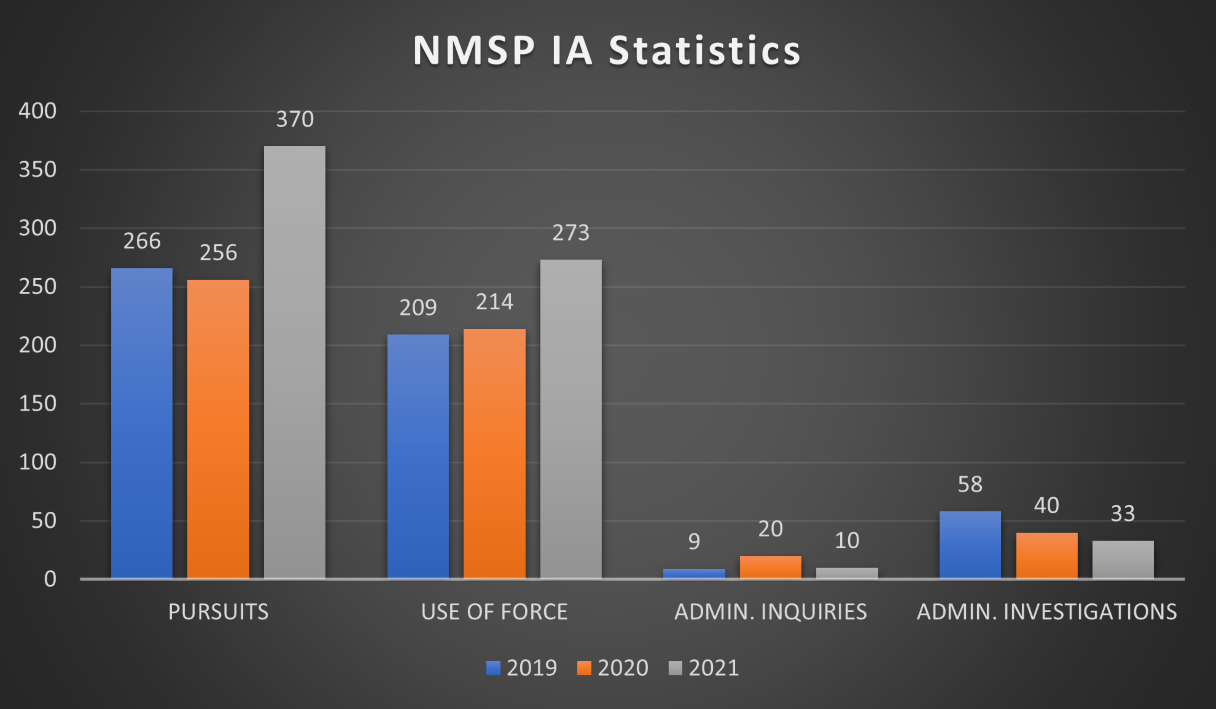 2021 Pursuit: Initial Violation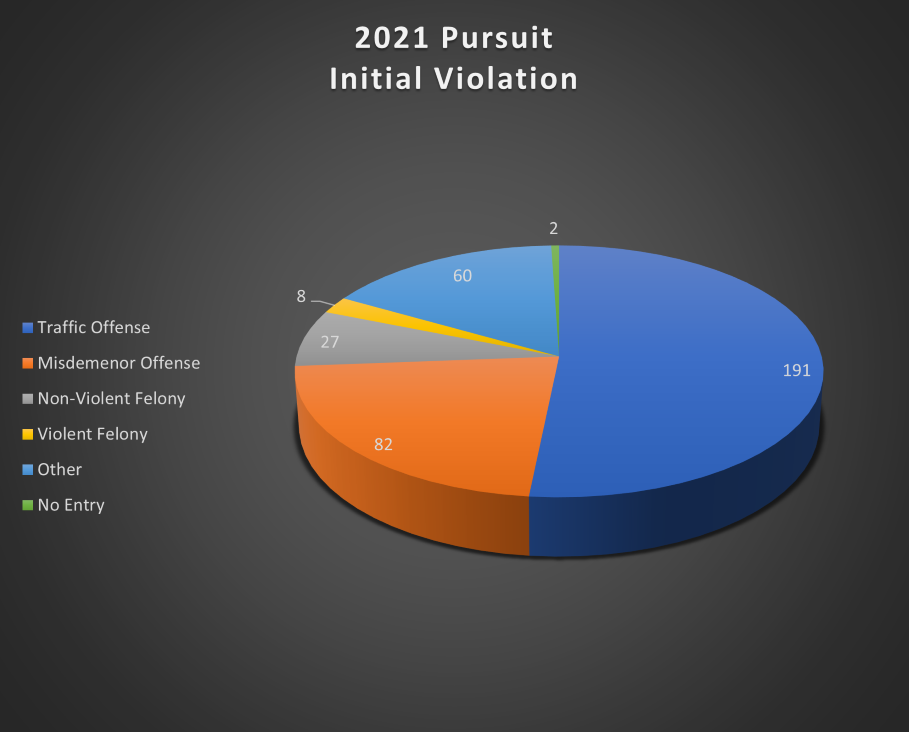 2021 Suspect Gender Breakdown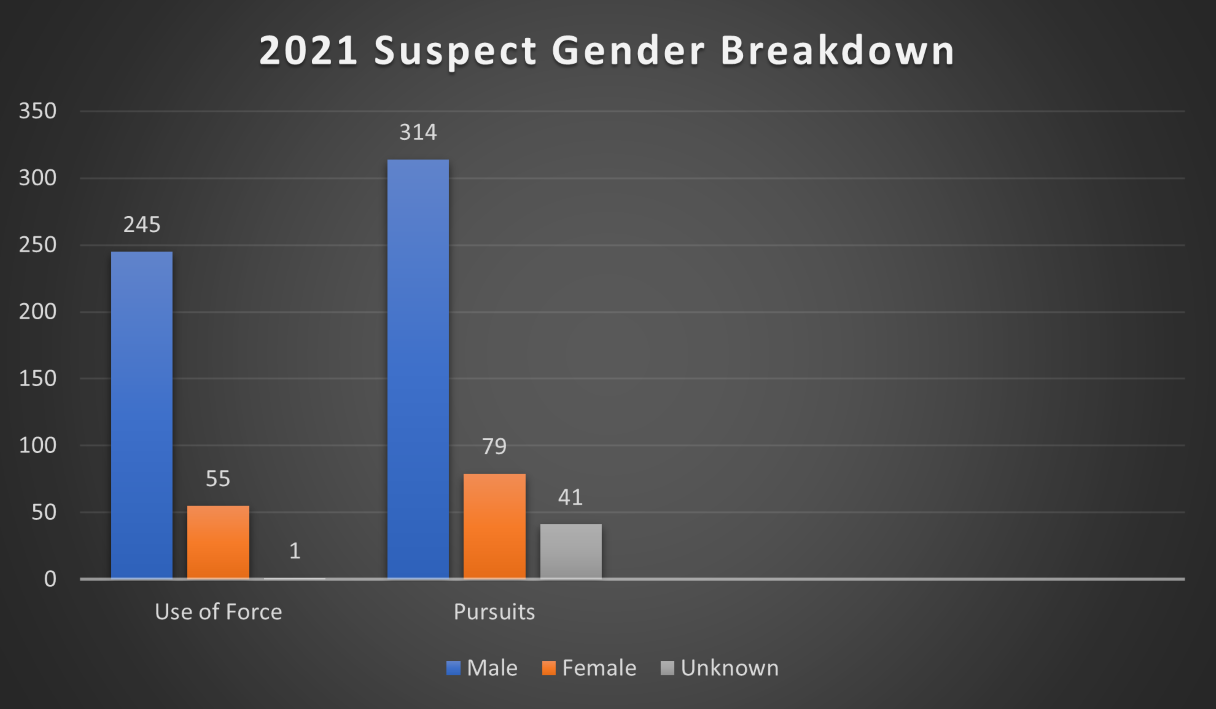 NMSP Officer Involved Shootings (OIS)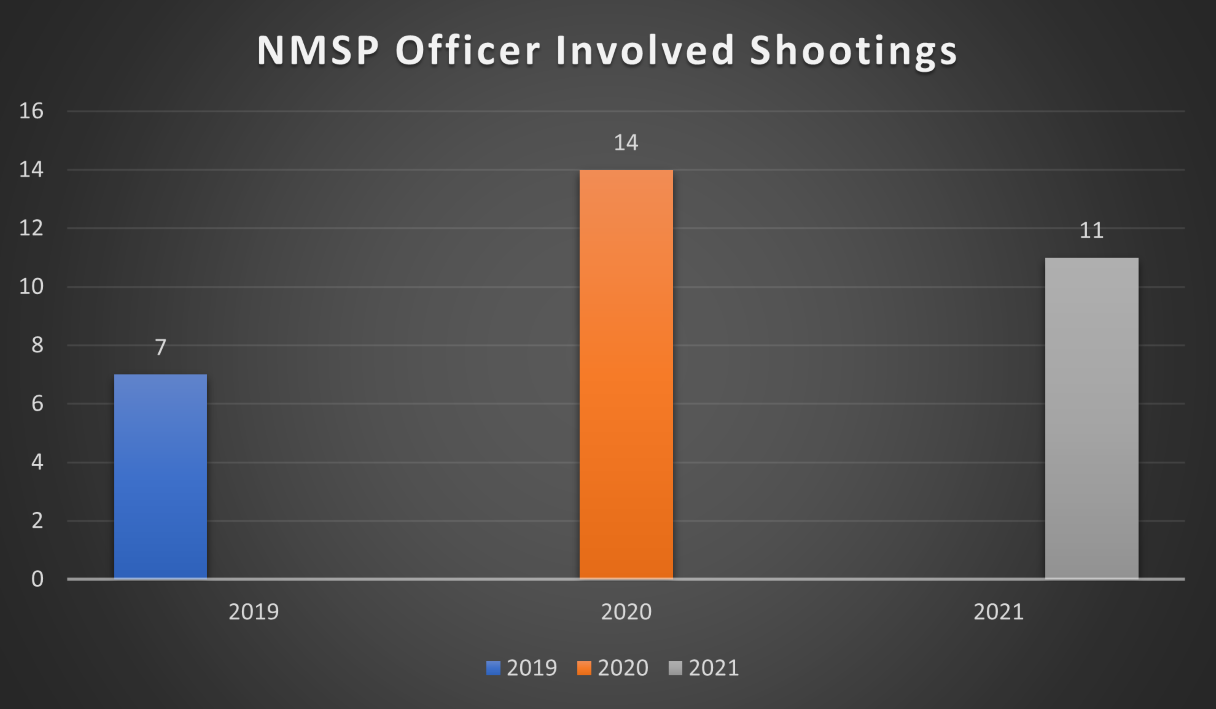 Suspect Age by Incident